WW2 pilot has 100th birthday flight over Shropshire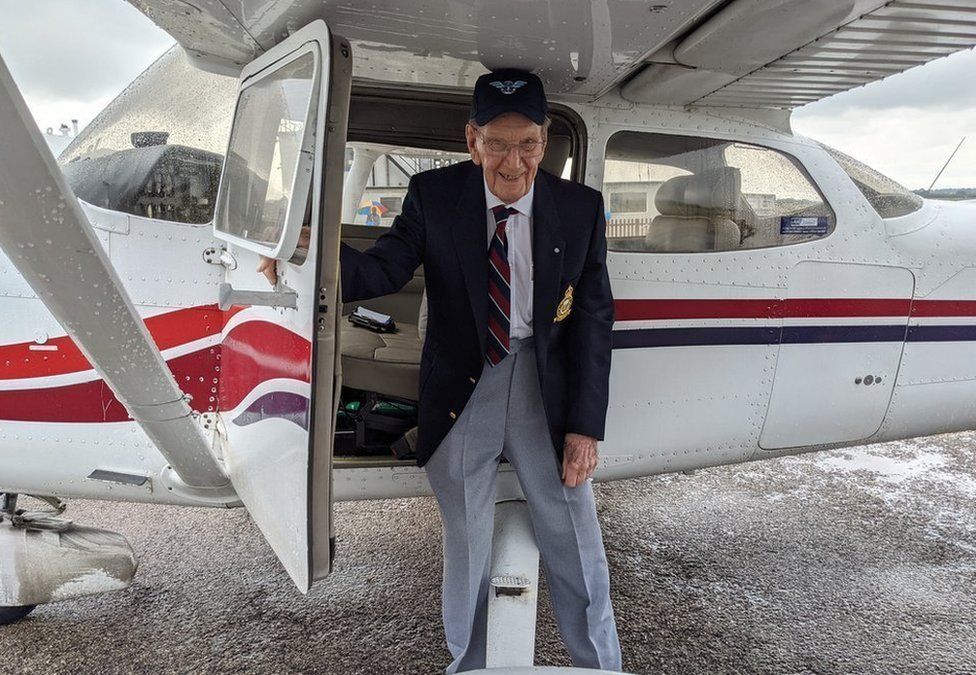 A World War Two Air Force veteran has celebrated his 100th birthday by taking a plane up for a spin.
John Trotman, who departed from Sleap Airfield in Shropshire, was awarded the Distinguished Flying Cross twice for 70 missions with RAF Bomber Command.
He said of Thursday's flight "no landing is satisfactory until it's perfect" and gave himself a score of "nine out of 10".
He described getting back in a plane as "marvellous".
His co-pilot was a good friend - his instructor when he took up flying again "at a very ancient age".
Mr Trotman, who during the War saw a good friend "going down... engines on fire", did not fly after the conflict for 60 years.
He added it hadn't "really registered" to have reached 100.
"You just keep busy... and suddenly it's here," he said.
A "very nice reception" at Shawbury was enjoyed, featuring "cake with icing on - everybody got a slice".
Mr Trotman spent his 99th birthday in similar fashion, as recorded in this video:
Asked about swooping down as low as 30ft on War missions, the former Air Force pilot told BBC Radio Shropshire it was "almost ground level" and he had to drop bombs in tunnels.
"You have to dive... towards that hole, direct the bombs which... had delayed action fuses, so that you could bounce the bombs along the track and into the tunnel.
"Then you had to fly immediately upwards, away from the area just across the mouth of the tunnel when... of course after about 10 seconds or so [the bombs] exploded."
He said the missions stopped "the Germans bringing their reinforcement trains" to their troops.
"The snag was that the tunnel mouth had German troops with machine guns in anticipation that some Allied flyer would make this attempt."
Related Internet Links
The BBC is not responsible for the content of external sites.