Dalian Atkinson: PC guilty of former footballer's manslaughter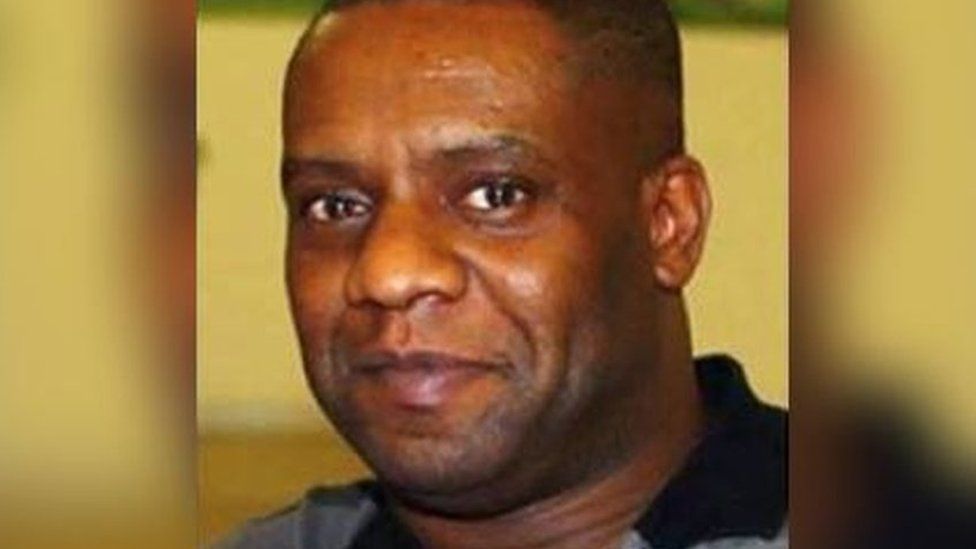 A police officer has been found guilty of the manslaughter of ex-footballer Dalian Atkinson.
The former Aston Villa striker died after a stand-off with West Mercia police officers outside his father's home in Telford, Shropshire in 2016.
PC Benjamin Monk, 43, was cleared at Birmingham Crown Court of an alternative charge of murder.
Mr Atkinson's family said justice had been done and hoped he would be remembered for his life, not his death.
Monk was granted bail until his sentencing hearing at the same court on Monday, after being told a custodial sentence in his case was inevitable.
His trial had heard he tasered Mr Atkinson for 33 seconds and kicked him twice in the head.
He denied any wrongdoing and said he believed there was a danger to life for him and his colleague.
Mr Atkinson began his career at Ipswich Town before moving to Sheffield Wednesday, Real Sociedad and Aston Villa.
Following a six-week-trial, jurors took 18 hours and 48 minutes to reach unanimous verdicts on Monk, who has 14 years' service.
In a statement, Mr Atkinson's family said he was "much missed" by his family and friends and the footballing communities of the clubs he played for.
"The past five years have been an ordeal for Dalian's family," they said.
"We are hugely relieved that the whole country now knows the truth about how Dalian died.
"While it has been hard for us not to be able to talk about the details of Dalian's death, it has been even harder to sit through this trial and to hear PC Monk try to justify the force he used."
They said his footballing talent "led him to achieve great things in his life".
"Our sincere hope is that now that the truth about his death is known, and justice has been done, we can start to remember him not for the manner in which he died, but for the way in which he lived," the statement added.
Following the verdict, West Mercia Police Assistant Chief Constable Rachel Jones, said: "Words alone cannot express the deep regret and shock I feel that I must stand here today because a West Mercia officer has been found to be criminally responsible for Dalian's death.
"I am sincerely sorry and extend my apologies and deep condolences to Dalian's family and friends."
Mr Atkinson's death, she said, has "sent shock and sadness" through the police service.
"Police officers come to work to serve their communities and keep the public safe," ACC Jones added.
"Our uniform should represent justice, public safety and the observance of the law.
"Those who wear it, as individuals, are also subject to those laws and should be held to the very highest standards of conduct and behaviour."
She said the force does not "underestimate the impact of the case" and will "work hard to build and maintain the trust and confidence" of the communities it serves.
A "fast-track misconduct process" will be carried out following Monk's conviction, ACC Jones said.
The Independent Office for Police Conduct, she said, had made a number of recommendations following Mr Atkinson's death, which have have been implemented.
Jurors are deliberating on an assault charge relating to Monk's colleague and former girlfriend, PC Mary Ellen Bettley-Smith, 31.
They were sent home for the day at about 15:30 BST and will resume deliberations at 10:00 on Thursday.
The trial heard how the two officers were called to Mr Atkinson's father's house in Meadow Close in the early hours of 15 August, where the the sportsman had been acting erratically.
Monk told the court he ran in fear after Mr Atkinson, who appeared to be having a mental health crisis, made death threats and smashed a glass door pane.
The trial heard Monk had discharged his Taser three times at Mr Atkinson, twice unsuccessfully, but on the third time he overrode the system, holding down the trigger for 33 seconds - more than six times the standard deployment.
During the trial, jurors were told Monk had not discharged a Taser during 2016 before firing it at Mr Atkinson's father's home.
The court was told although he had drawn a Taser four times that year, subjects had been compliant before the weapon was fired.
The officer claimed to have no recollection of placing his foot on Mr Atkinson's head as colleagues arrived at the scene.
However he conceded he must have kicked the ex-footballer twice in the forehead, because bootlace prints proved he had.
Monk maintained his actions were lawful self-defence, made necessary when the former Premier League star tried to get up.
Mr Atkinson, who had a number of underlying health conditions, went into cardiac arrest after being taken from the scene in an ambulance, and was pronounced dead in hospital at 02:45 - about an hour after he was tasered.
According to the charity Inquest, no police officer has been found guilty of murder or manslaughter over a death in custody or following police contact in England and Wales since the 1980s.
Related Internet Links
The BBC is not responsible for the content of external sites.