Dalian Atkinson: Ex-footballer fell 'like ton of bricks'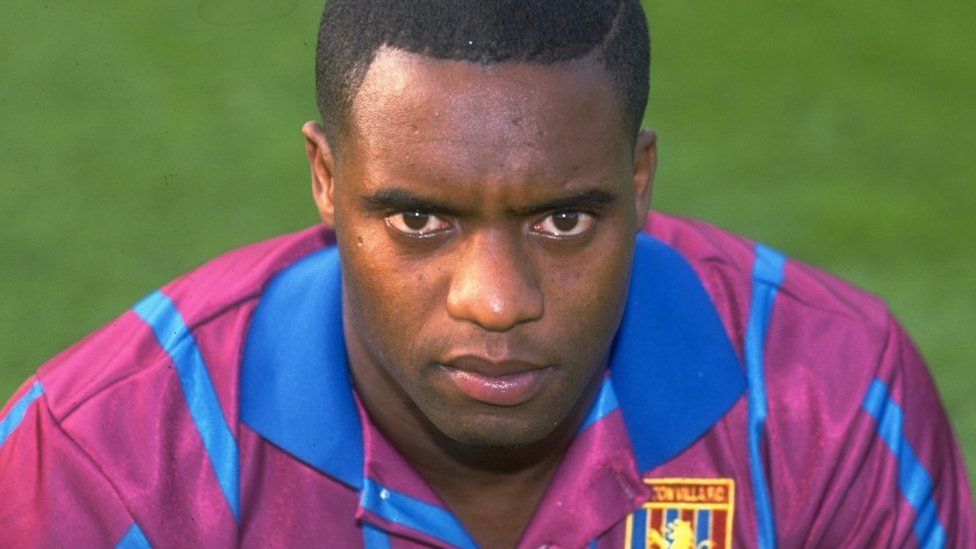 Former footballer Dalian Atkinson went to the ground "like a ton of bricks" after being Tasered, a witness has said.
The former Aston Villa star died in 2016 after a stand-off with police outside his father's home in Telford.
PC Benjamin Monk is accused of murder, while his colleague PC Mary Ellen Bettley-Smith is charged with assault.
Giving evidence to their trial, another witness said he saw Mr Atkinson kicked "like you'd kick a football".
The prosecution alleges PC Monk, 42, murdered the former Aston Villa star on 15 August 2016 by kicking him in the head, intending serious harm, while PC Bettley-Smith, 31, struck blows to his body with a baton out of anger.
PC Monk and PC Bettley-Smith, officers with West Mercia Police, arrived at Mr Atkinson's father's house in Meadow Close, Telford, shortly before 01:30 BST after neighbours had reported Mr Atkinson acting strangely and shouting in the street.
Julia Shilton, who lived on the same street as Mr Atkinson's father Ernest, told Birmingham Crown Court she heard what sounded like an argument and then a police officer shouting to a man to get on the ground.
She said Mr Atkinson "was moving up and down the driveway not really at any speed".
After hearing the 48-year-old hammering on his father's door, Mrs Shilton said there was the sound of breaking glass.
She added: "The male police officer told him to get down on the ground a couple of times."
She said Mr Atkinson did not get to the ground and instead "made his manner like a bit more menacing".
Mrs Shilton told the court she heard the "crackling" sound of a Taser but nothing happened.
"Then I heard a crackling noise and the officer had obviously brought the Taser up again and fired again," she said.
"At that point Mr Atkinson fell down to the ground. In layman's terms, like a ton of bricks."
The witness told the court, there was "no movement" from Mr Atkinson, when she saw a male officer kick him "five or six" times.
Mrs Shilton told the court she felt the female officer was hesitant, but gave Mr Atkinson "three-four whacks" on the body and legs.
Another witness, Victor Swinbourne, said he had become frightened when Dalian Atkinson dismissed the red dot of a Taser initially aimed at him.
He told the jury Mr Atkinson had said "10,000 volts is nothing to me" and walked towards officers saying, "I am the Messiah, this day will go on forever you will remember this day".
He said Mr Atkinson was then Tasered for what appeared to be a second time and fell to the floor without putting his hands out to break his fall.
"I saw the male [officer] kick him a couple of times. He lifted his leg up and as he kicked him, he kicked him in his torso area," Mr Swinbourne told the court.
"I remember that he kicked him in the chest and I remember it sort [of] coming off his chest... and moving his head back.
"It was a long time ago, however I would say the first one was probably with a bit more force than the second."
Other police officers arrived shortly afterwards and Mr Swinbourne said he heard them say the man was unresponsive.
A third witness, Paula Quinn, told the court she felt the force the officers had used after Mr Atkinson had fallen to the ground was "excessive".
"I thought it was too much, it was not necessary. Dalian was no threat, he was on the floor," she said.
The striker, who had a long sporting career at a number of clubs including Ipswich Town, Sheffield Wednesday, Aston Villa and Manchester City, died at about 02:45 on the morning of the altercation.
He had been suffering with high blood pressure, heart disease and end-stage renal failure, the court has been told.
PC Monk, 42, denies murder and manslaughter. PC Bettley-Smith, 31, denies assault.
Related Internet Links
The BBC is not responsible for the content of external sites.