Snow in Shropshire: Wintry scenes around hills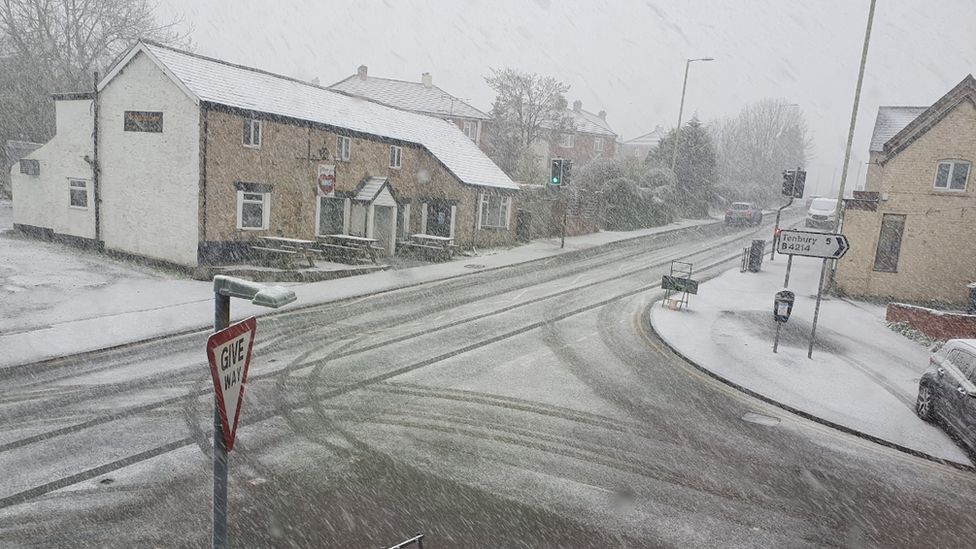 It might be May on Saturday but residents of a Shropshire village woke up to scenes reminiscent of winter.
Up to one inch (2.5cm) of snow fell during Friday morning in and around Clee Hill and Church Stretton.
The village of Clee Hill is 1,250ft (380m) above sea level and resident Trudi Hassan said it did tend to have a different climate to elsewhere.
The village has previously seen snow in May and in June. Nevertheless, Ms Hassan said the snow was a surprise.
"I thought it was going to be a nice day today," she said.
A Facebook page has been set up due to the demand of people wanting to see pictures of the village's unseasonal weather. Clee Hill Weather has now got more than 4,000 followers. One photo last year was seen by more than 400,000 people.
Fellow resident Rhian Gurney said the snow is not usually a problem, but she had had to ask a farmer to pick up her children from school with his tractor once.
And while people in Clee Hill are used to a bit of snow, she said it "can get a bit tedious" when it's not expected.
Snow was also reported on the Stretton Hills, but with warmer weather forecast it is not expected to stay.
Snow in April isn't that unusual. In fact, April tends to be a snowier month than November.
This week, northerly winds have brought us a steady supply of cold air from the Arctic - cold enough to turn some of the showers wintry.
It'll stay chilly for the start of May too, with more sleet and snow showers possible across the hills this weekend.
But an Atlantic low pressure system is set to bring heavy rain and strong winds on Bank Holiday Monday.