Bridgnorth wooden eel washes up 100 miles away on Bristol beach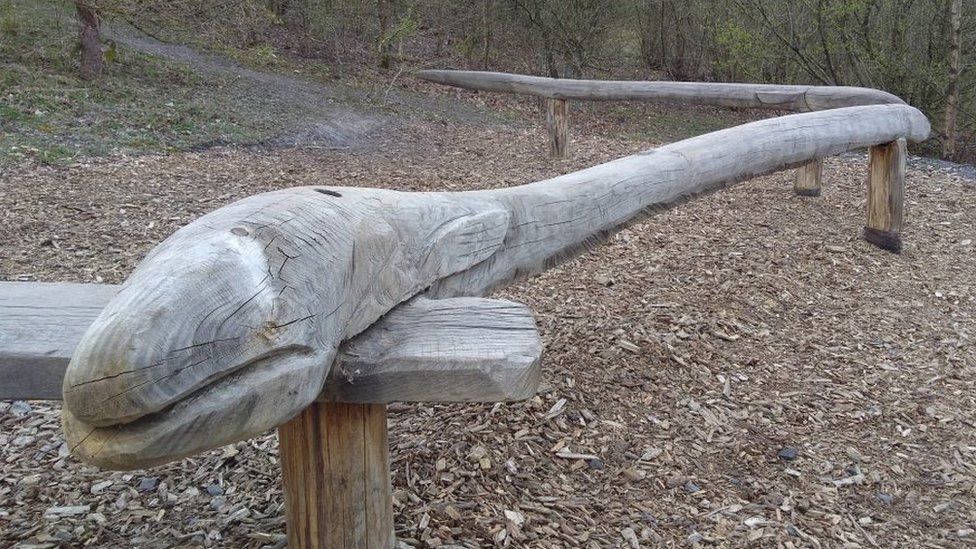 A wooden eel, which went missing from a park in Shropshire, has been found on a beach almost 100 miles away.
The 3m (9.8ft) long carving, situated at Severn Valley Country Park near Bridgnorth, and used as part of a balancing frame, went missing in July.
Michelle Lucking found the missing eel at the beach on Portishead on Saturday.
It appeared to have been dumped in the nearby River Severn, she said, and took about seven months "migrating it's way downstream over some 90 miles".
The eel has been removed from the beach and safety secured with help from an RNLI crew.
Mrs Lucking said a second wooden eel, stolen at the same time, is believed to have washed up further down the coast at Weston-super-Mare.
The balancing eels were installed in the park in 2019 as play equipment and Shropshire Council said at the time of the theft, which included other items, the total cost to replace would be £4,500.
Dave Tremellen, councillor for Highley, said it was "magnificent" the eels were found.
"Our park warden plans to go down to Bristol to pick it up," he said.
"My immediate thoughts are, this would be an excellent project for the children at Highley Primary. They could write about the adventures of the eels, imagine all the bridges they have been under and adventures they have had."
Related Internet Links
The BBC is not responsible for the content of external sites.