Veganuary advert reinstated on Shropshire buses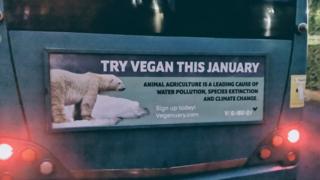 Posters promoting veganism have been put back on buses in Shropshire, after their removal led to criticism.
Campaigners paid £2,650 for 20 adverts promoting Veganuary on Arriva buses in Shrewsbury and Telford.
But the adverts were removed with Arriva saying it was not due to their content, but that the correct approval process had not been followed.
On Friday, the company said "an operational error" had been resolved and the adverts reinstated.
Head of communications for the national Veganuary charity Toni Vernelli said it was "delighted" the decision to remove the adverts had now been overturned.
She said: "These are really important messages to get out in the public domain, especially as we're watching Australia basically going up in flames, because of climate change."
Arriva said previously its advertising was handled by a third party.
In a statement on Friday, Arriva UK Bus said: "Arriva is and continues to remain impartial to the content of these adverts and can confirm that these have been reinstated as agreed between the advertiser and our third-party supplier."
The company said last month that a customer complaint suggested the advertising approval process had not been followed.
Shropshire resident Jo Reff, from a group that fundraised for the posters, said that in comparison, the volume of objection over the adverts' removal amounted to "huge uproar".
She said: "You can see that they've changed and [it] is because the number of complaints was massive. I would say hundreds.
"[I'm] very, very pleased... We wanted the truth to be shown... Animals go through horrific lives [in the meat and dairy industries]."
Last winter, Shropshire Council deputy leader Steve Charmley had said adverts promoting veganism should be removed from buses in the county because of the area's agricultural history.
Follow BBC West Midlands on Facebook, on Twitter, and sign up for local news updates direct to your phone.