Midlands heavy rain causes flood disruption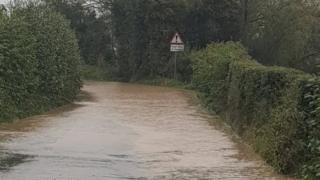 Heavy rain has caused road and rail problems and forced events to be cancelled across the Midlands.
Fire crews have pulled vehicles from floodwater and some roads have been closed because of stranded vehicles.
Several rail lines in and out of Shrewsbury have been affected and replacement buses are being used.
Drivers have been advised not to travel on many routes unless absolutely necessary. Flood barriers have been deployed along stretches of river.
Fire crews were called to homes in Wem and Market Drayton in Shropshire, where water was threatening electrical systems.
West Mercia and Shrewsbury Police said many rural roads were under water. The force has received calls from motorists and homeowners.
On social media, drivers said vehicles had broken down in floods around Whitchurch, with the A525 to Nantwich among the roads impassable.
Environment agency worker Dave Throup said some roads had turned into rivers in the River Clun Catchment.
He added flood barriers were being deployed at Hereford, Bewdley and Shrewsbury.
There are also reports of problems on some major roads, including the A49, A53 and A442.
Stockport Council said it had closed the A555 between the oil terminal and the A34 junction at Handforth Dean in both directions.
In Nuneaton, fire crews said conditions were "very hazardous" with numerous incidents across the county of people "marooned in floodwater".
Trains have also been cancelled. Transport for Wales said lines from Shrewsbury to Welshpool, Wrexham and Crewe were closed with rail replacement buses requested.
In a statement, the rail operator said: "Customers travelling on these routes should not to travel unless absolute necessary.
"Road transport is extremely limited and there are reports of issues on the roads."
Heavy rain also flooded the railway through Stoke-on-Trent, with National Rail advising disruption there would last until the end of the day.
Transport for Wales added severe rail service delays had been reported between Shrewsbury, Wolverhampton and Birmingham and no replacement road transport was available.
In Derbyshire, the Matlock Bath Illuminations has been called off for Saturday because the River Derwent has flooded.
There are flood alerts on Shropshire rivers.
Shropshire Fire and Rescue Service advised motorists not to drive through the floodwater.
A spokesman for the fire service said it had received a dozen calls over the flooding and was advising motorists to leave their cars in the water if it was safe to do so.
Parts of Hereford and Worcester also suffered flooding, with Herefordshire Council taking the decision to close roads due to vehicles stuck in the water:
The police team for Golden Valley in Herefordshire said the B4348 at Peterchurch was closed due to flooding and asked people to avoid the area:
South Worcestershire Police said officers had rescued three people from a car in floodwater in Green Lane, Droitwich:
There are also road closures in the Moorlands area of Staffordshire:
While in South Staffordshire, the depth of floodwater reached almost 4ft at a ford.
Staffordshire Fire and Rescue Service said crews had attended a number of calls to people trapped in flood water close to a garage on Sandon Road:
The operations director for Staffordshire's Churnet Valley Railway, Gregory Wilson, said officers from the Canal and River Trust had told him "the canal at Consall is in danger of breaching and potential flooding on to the railway line".
"Sadly, we've had to suspend services until further notice, affecting today's historic event to operate three S160 steam locomotives together [for the first time] since the 1940s.
"We are awaiting an updates following inspections of the track and canal wall," he said.
Football games across the region have also been cancelled due to waterlogged pitches.
Nottingham Forest FC called off its match against Reading as the pitch was in an "unplayable condition".
Nottinghamshire Fire and Rescue Service station manager Nicola Bottomley tweeted a photograph of a car partially submerged in flood water in Rufford Ford and advised drivers to adhere to road signs:
Follow BBC West Midlands on Facebook, on Twitter, and sign up for local news updates direct to your phone.