Statue marks 50 years since Ifton Colliery's closure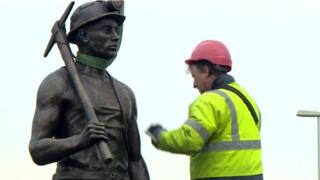 A bronze statue has been unveiled in a Shropshire village to mark 50 years since the closure of its colliery.
St Martins, near Oswestry, was an area of heavy industrial activity until the Ifton pit shut in 1968.
At its height, some 1,300 men worked there, mining about 400 tonnes of coal a day.
The 7ft 6in statue (2.3m), depicting a 1960s miner, was unveiled on Saturday to commemorate the area's mining roots.
It stands in the Miners' Memorial Garden in the centre of the village.
Since the closure of colliery, the area has undergone a huge transformation that has seen much of it turned into the Ifton Meadow nature reserve.
Former miner Terry Ellis, one of those behind the campaign for a statue, said the mine's closure "shocked" the village at the time.
"You have what you believe is a secure, steady job with an assured income for the future, then someone somewhere comes along and makes a decision that your source of income will be closed," he said.