Shropshire midwife's misconduct hearing over baby death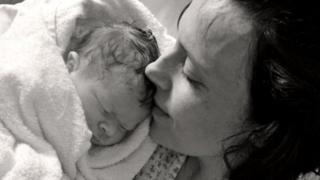 A Shropshire midwife is facing misconduct charges over the care of a baby who died hours after birth.
The Nursing and Midwifery Council (NMC) said Heather Lort should have made an emergency referral after Kate Stanton-Davies was born "pale and floppy" at Ludlow Community Hospital on 1 March 2009.
It said not doing this "resulted in a loss of chance of survival".
Ms Lort did not attend the first day of the hearing on Tuesday.
But the panel decided to proceed, satisfied she was aware it was taking place and had chosen not to come.
The panel said "she has not admitted any of the charges".
The hearing in London was told Kate was making strange "grunting" noises because she was struggling to breathe.
It said Ms Lort recorded her temperature low, 36.06C, at birth and placed her in towels, not an incubator or hot cot, contrary to hospital trust guidelines.
It also claims she failed to properly monitor Kate's heart rate before birth.
'Inappropriate advice'
It added she had stopped resuscitating the newborn when paramedics arrived to airlift her to hospital in Birmingham, where she later died.
The council also referred to another case involving Ms Lort - and unnamed Mother D - when she delivered a stillborn baby in February 2013.
Case presenter, Michael Collis said after failing to find the heart rate of the baby, instead of making an emergency referral, Ms Lort gave "inappropriate advice" and said the mother should "go for a walk and have a drink".
Ms Lort no longer works for Shrewsbury and Telford Hospitals Trust.
The trust is undergoing a review of its maternity care, ordered by the Health Secretary in 2017 following a series of baby deaths, which has since expanded after more families came forward.
Last month, it was told to provide weekly reports to the Care Quality Commission because of safety concerns in its maternity service.
The hearing continues.
Charges faced by Heather Lort
On 17 July 2008, she did not make an emergency referral to the perinatal mental health services
On March 1 2009, did not adequately record the fetal heart rate between 08:45 and 10:03
At 09:40 and/or 09:50 did not increase surveillance of the fetal heart rate after decelerations were recorded
Did not carry out an adequate or accurate assessment of Kate Stanton-Davies' Apgar score, which measures the physical condition of a newborn infant, at one and/or five minutes
Did not arrange an emergency transfer to take baby Kate to a neonatal unit, which resulted in a loss of her chance of survival
Did not place baby Kate in an incubator or hot cot after her temperature did not improve with skin to skin contact
Did not ensure baby Kate's condition or vital signs were monitored after she was noted to be "grunting" at around 10:30 until her collapse
Did not provide effective resuscitation to baby Kate, in that she stopped resuscitation before she achieved a heart rate of 100 bpm and/or before care was transferred to an appropriate practitioner, and did not accurately record the resuscitation process
Did not accompany baby Kate to the neonatal unit and/or provide an adequate handover to the paramedics
Regarding a separate incident, on 20 February 2013, in relation to Mother D, after being unable to detect a fetal heart rate, did not escalate Mother D to a doctor, did not activate the emergency alarm and gave inappropriate advice to Mother D