West Mercia Police sorry over false paedophile claims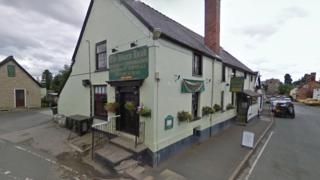 A publican was mistakenly branded a paedophile after police sent out an erroneous criminal record.
Darren Price, who runs the Boars Head in Bishop's Castle, Shropshire, said the claims about convictions for sexual offences destroyed his life.
West Mercia Police has apologised and said it was a "genuine mistake".
The details were given to the solicitor of another resident, involved in an investigation into alleged harassment involving Mr Price.
Stafford Crown Court confirmed that that resident had received a restraining order preventing him from contacting Mr Price.
The information was provided to his solicitors through the Crown Prosecution Service, which West Mercia Police said referred to someone else.
Mr Price, who runs the pub with his partner Stuart, said he suffered a stream of abuse as a result of the false claims becoming public.
The 49-year-old added: "I don't go into any shops and haven't been for a number of years.
"I don't socialise. I've lost most of my friendship group and it's affected an awful lot of our local trade."
'Genuine mistake'
West Mercia Police's Professional Standards Division and the Independent Office for Police Conduct upheld his complaint.
Mr Price added: "It is the worst thing you could say about anybody.
"To think that the police could make you [a paedophile] just by sending out a document bearing your details. It is just shameful."
In a letter to Mr Price, Assistant Chief Constable Martin Evans said he offered his "sincerest apologies" for the distress caused and that it was a "genuine mistake".
He said the force would ensure that the error was not repeated.
Ch Supt Kevin Purcell added it had carried out an internal review into the incident but "it has not been possible to trace exactly how it happened".
The force said there was no suggestion that the solicitor who received the papers did anything wrong.
A spokesperson for the Solicitors Regulation Authority said: "We have had a complaint and are looking into it before deciding on any next steps."