Telford grooming gang leader back behind bars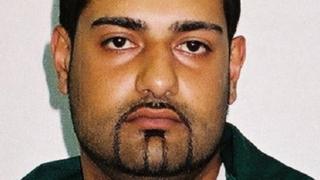 The ringleader of a Telford child sex abuse gang has been recalled to prison, nine months after being released, an MP said.
Telford MP Lucy Allan said Mubarek Ali was recalled for breaching his licence.
He was jailed in 2012 for his role at the head of the Operation Chalice gang, and, she said, automatically released in November.
Ms Allan has now called for him to serve the remainder of his licence period behind bars.
Ali, 35, who was of Regent Street, Wellington at the time of his conviction, was freed from prison in November 2017.
He was given a sentence of 14 years' immediate custody and eight years on licence in 2012 for four charges of controlling child prostitution, two of trafficking in the UK for sexual exploitation and a charge of causing child prostitution.
Because of time served on remand, his release was automatic at the halfway point of his sentence.
Ms Allen said there are "many questions to be answered" about why Ali was let out, claiming he was not seen by a parole board before his release, and also about how the justice system treats grooming cases.
Ms Allen added: "Now he is back in jail, justice demands that he must serve the remainder of his sentence in custody; anything less would show a casual disregard for the nature of his crimes and for the victims whose lives he changed forever."
The Ministry of Justice said it does not comment on individual cases, while the Parole Board said: "If he had been recalled, we would not be notified."