Eloise Parry was 'focussed' on losing weight, says sister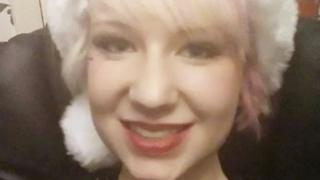 A bulimic student who died after taking a toxic slimming aid she bought online had become "focussed" on losing weight, a court was told.
Eloise Parry, 21, from Shrewsbury, died in April 2015 after taking eight diet pills containing dinitrophenol (DNP).
Albert Huynh, 33, Bernard Rebelo, 30, and Mary Roberts, 32, all deny Ms Parry's manslaughter.
Her sister Rebecca Parry, 19, said Eloise lost a lot of weight from the tablets but still wanted to be slimmer.
In her statement, read at Inner London Crown Court, Ms Parry said her sister had struggled "more and more" with her eating disorder before her death and needed hospital treatment on numerous occasions for the side effects of the tablets.
The Glyndwr University student had mental health problems as a teenager and had been diagnosed with bulimia and a borderline personality disorder, the statement said.
In March 2015, Ms Parry said, Eloise told her she had collapsed, suffered shortness of breath, fever, dehydration and faintness. She was also jaundiced.
'Enchanted by weight loss'
Some weeks before she died Eloise also told her sister she was sweating uncontrollably and could not regulate her temperature.
She seemed "too enchanted by her weight loss to acknowledge how unhealthy she was getting", the court heard.
Ms Parry said Eloise had mentioned diet pills but did not associate them with her fever.
"I had assumed she was talking about safe, shop-bought, diet pills," Ms Parry said in her statement.
She only found out about online DNP purchases during one of Eloise's hospital stays.
The jury has been told that DNP is a highly toxic substance when ingested, inhaled or absorbed through the skin.
It causes weight loss by burning fat and carbohydrates, in turn causing energy to be converted into heat.
Mr Huynh, from Northolt, north-west London, Mr Rebelo and Ms Roberts, both from Gosport, Hampshire, each deny two counts of manslaughter, and one count each of supplying an unsafe food.
Ms Roberts denies a further charge of money laundering by allegedly transferring £20,000 for and on behalf of Rebelo.