Public to have say on Shropshire hospitals revamp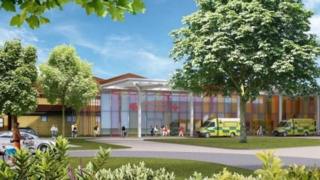 People will be able to have their say on plans for a multi-million reorganisation of hospital services.
The proposals look at centralising services at either of the two hospitals in Shrewsbury or Telford.
Future Fit was launched in 2013 to overhaul services at Shropshire's Royal Shrewsbury and Princess Royal hospitals.
A 14-week consultation began on Wednesday, with public exhibitions taking place across the county.
Residents can also give input online.
Last year, local health bosses agreed a preferred option that would see emergency care and women and children's services located in Shrewsbury.
Telford's Princess Royal site, meanwhile, would become the centre for planned care, like elective surgery, orthopaedics and specialist bariatric and breast services, yet its emergency department downgraded to an urgent care centre.
But the issue of emergency care has been divisive in Telford, with the public and Telford & Wrekin Council, fighting plans to 'downgrade' its A&E unit
Council leader Shaun Davies said: "We believe our preferred option, of having emergency care in Telford and planned care in Shrewsbury is better for everyone."
Shrewsbury and Telford Hospitals NHS Trust, which runs both sites, has argued centralising services including emergency care would make it easier to recruit staff, improve facilities and improve care quality.
Chief executive, Simon Wright, said: "It has been a long journey to get to this point but we're really pleased.
"I think our doctors and nurses are keen to take the messages out to the population and share what it will really mean for them."