MP Owen Paterson back at work after horse riding back break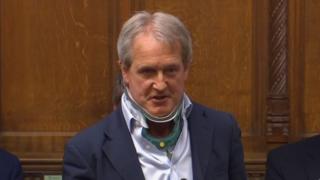 An MP who broke his back in a riding accident has returned to work.
Owen Paterson, the MP for north Shropshire, was out riding in January when he fell from his horse, breaking three vertebrae.
Speaking in the commons at Prime Minister's Questions, Mr Paterson extended his "heartfelt thanks" to the staff who treated him.
He said previously the horse "landed" on his head and that he felt "lucky to be alive".
Addressing the commons, Mr Paterson, a Conservative, who was wearing a neck brace, said: "I would like to register my heartfelt thanks to all the staff at the Midland Centre for Spinal Injuries and the Robert Jones and Agnes Hunt Trust in my constituency.
"Without their extraordinary skill, professionalism and simple human kindness, I would not be here today."
Theresa May said everyone was pleased to see him back in the chamber.