Balloon festival marks Telford's 50th anniversary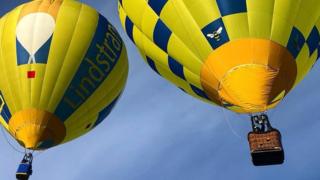 Balloons and kites filled the skies, as crowds turned out to mark Telford's 50th anniversary.
The festival is one of a number of events planned throughout 2018 to mark half a century of the new town, which was established in 1968.
Thousands of people are expected to visit Telford Town Park to take in the spectacle over the next two days.
Those behind the flights said it was "fantastic" to have the balloons over the town as part of the celebrations.
Flight director Marc Derbyshire, who is originally from Telford, said it was the first event of its kind for decades.
"It is really special to get the balloons back in Telford," he added.
"They have had a fantastic flight. The balloonists are really happy as well because it is such a lovely area to fly over."
Telford & Wrekin Councillor Richard Overton said he was pleased to be able to celebrate the history of the town, which includes Dawley, the birthplace of the first Channel swimmer Captain Matthew Webb, and Coalbrookdale, hailed as the birthplace of the Industrial Revolution.
Mr Overton said: "Having been born and bred here, I think it is an amazing place.
"There are lots of events going on and this is one of the special ones."