Adder bites woman at Whixall Moss in Shropshire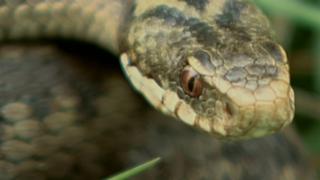 A woman was taken to hospital after being bitten on the foot by an adder during an outing at a beauty spot.
The snake bit the woman while she was visiting Whixall Moss, near Whitchurch, north Shropshire, on Saturday afternoon.
Paramedics and an air ambulance were sent and the woman, in her 60s, was taken to the Royal Shrewsbury Hospital.
John Hughes, of Shropshire Wildlife Trust, told the Shropshire Star: "It's a very, very rare occurrence."
He added: "Clearly it is very serious but it tends not to be life threatening because they are venomous, but not deadly."
Adders are the only venomous snakes found in Britain.
Although the venom poses little danger to a healthy adult, the bite is painful and requires urgent medical attention.
About 100 adder bites are reported in Britain each year, according to the NHS, with most happening during summer months.