Noel Conway: Assisted dying a 'matter for Parliament'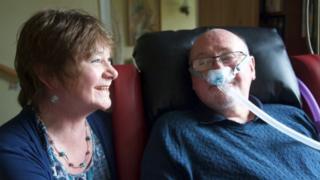 Judges being asked to consider the future of a terminally ill man have said it should be decided by MPs.
Noel Conway, from Shrewsbury, has motor neurone disease and is challenging the law on assisted dying.
His wish to enlist the help of medical professionals to die "peacefully" is being heard by three senior judges.
Lawyers representing the Justice Secretary said it would require a change in law, and so should be decided in Parliament.
The law currently prevents Mr Conway from being helped to die, however his lawyers argue that it "interferes with his rights" to be kept alive.
James Eadie QC, representing justice secretary David Gauke said he acknowledges Mr Conway's "tragic and distressing circumstances" but that Parliament has available a far more extensive range of opinions and resources to debate "issues for the conscience of the nation".
As such, he said, any change in law which would be required for Mr Conway to be helped to die "ought to remain a matter for Parliament".
Mr Conway, 68, is dependent on a ventilator for up to 23 hours a day and only has movement in his right hand, head and neck.
His lawyers said on Tuesday he should not have to endure a "distressing and undignified death" because of the ban on assisted dying.
His appeal is expected to conclude on Thursday.