Telford child abuse perpetrators targeted under-18s events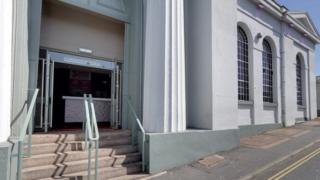 Child sexual exploitation (CSE) "perpetrators" targeted nightclub events for under-18s, a report said.
The Shropshire Council study says people from Telford have been found targeting events at The Buttermarket, Shrewsbury.
Owners of the venue have insisted no over-18s are allowed into the venue on nights under-18 events are held.
An independent inquiry into CSE in Telford is to be held after claims the town has endured a persistent problem.
Martin Monahan, owner of The Buttermarket, said: "Our under-18 events are only attended by those who are under 18.
"We work very closely with the police and all of the other agencies to ensure that safety is of particular importance."
The authority's report has been published ahead of a council meeting due to discuss CSE next week.
It said: "Several high profile operations within the evening night time economy have taken place to prevent CSE in Shrewsbury.
"Consequently perpetrators from Telford have been disrupted and dispersed from U18 events at Buttermarket." Neither the council nor West Mercia Police would elaborate on the details.
The report also revealed the authority has "identified risk for 67 children" in the county, six of whom are males. Of the 67, 15 are high risk and 27 are at medium risk, it reported.
'Not gangs'
The council said all children identified at a medium risk and above have social workers.
The report continued: "Shropshire's CSE profile tends to be the 'boyfriend' model, or friend of a friend of older sibling, online relationship, and issues around social media accounts, we have not, to date, identified any organised gang related CSE.
"Drug use and its use as a tool to engage children into sexual activity remains the number one theme in referrals in Shropshire."
In March, the Sunday Mirror alleged up to 1,000 girls had been victims of CSE in Telford since the 1980s, but the reported scale of abuse has since been disputed by an expert quoted in the article.
The Conservative-led Shropshire Council said since the events in Shrewsbury it has "increased the presence of street pastors".
Ch Supt Kevin Purcell, of West Mercia Police, said: "We carry out a number of operations to safeguard those enjoying a night out right across the county, this includes under 18 events."
Former mayor and Labour councillor for Harlescott, Ioan Jones, said: "I am pleased that there seems to be many processes at work to tackle this issue and that establishments are responding and working with the authority.
"However, police cuts and their impact is a big issue that needs to be addressed in helping to tackle CSE."
Conservative Telford MP Lucy Allan said: "I welcome all activities to prevent CSE from taking place and I urge our local police to continue to monitor known perpetrators as well as under-18 events."