Telford abuse: Expert casts doubt on Sunday Mirror report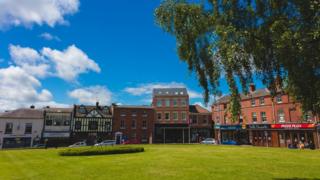 An expert quoted in a Sunday Mirror story about child sexual exploitation in Telford has cast doubt on its claims about the scale of abuse.
The article, published on 11 March, suggested 1,000 children may have been abused in the town since the 1980s.
In a letter to Telford & Wrekin Council, Prof Liz Kelly said the figure was "not accurately represented", but it could be higher as well as lower.
The newspaper said it has only ever reported an estimated figure.
In the letter, Prof Kelly of London Metropolitan University's child and women abuse studies unit, said reaching an estimate on how many children or young people had been involved in child sexual exploitation over time in Telford was "not possible with any accuracy".
She added there were ways to make a "rough estimate" but this required being "transparent" in the "assumptions" made to reach the figures, which she claimed "was ignored in the actual newspaper story".
She said her "extremely brief telephone call" with a journalist was "not accurately represented".
But Prof Kelly said it was possible figures could be "higher", due to the lack of data, but said the key issue was that "far too many children were and are still being abused".
The Mirror said its calculation of the number of survivors was a result of an 18-month investigation involving interviews and gaining new statistics through the Freedom of Information Act.
"The figure was then estimated under the advice of experts in CSE including Professor Liz Kelly. We stand fully by the journalism which uncovered this horrific scandal," it added
Telford and Wrekin Council has already agreed to fund an independent inquiry into the issue while the national Independent Inquiry into Child Sexual Abuse is also due to visit Telford in coming weeks as part of its Truth Project.
Telford's MP, Lucy Allan, said sexual crimes are "under-reported".
"In some cases young people do not identify what is happening to them as a crime, believing themselves to be at fault," she added.
"We know this crime is still happening in Telford. It is a very serious issue which I want the authorities in Telford to take seriously. We know that the police statistics do not reflect the scale of the problem."