Changes to baby ashes rules after Shropshire campaign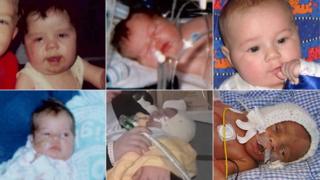 Bereaved families are to get more information before their babies are cremated following a rule change.
A BBC investigation found 60 families did not have their children's ashes returned after cremations at Emstrey Crematorium in Shrewsbury between 1996 and 2012.
Concerns were then raised about more than 30 crematoria, which led to a government review.
Further changes in how cremations are carried out have now come into force.
The new regulations will introduce a new application form which will explain to families that, in some cases, ashes may not be returned.
The guidance said these situations are "rare" and "relate to the cremation of very small or stillborn babies".
Glen Perkins, who founded campaign group Action for Ashes, said it means families will be able to make an informed decision about cremation and have the chance to change their minds.
Mr Perkins' four-month-old daughter Olivia died from sudden infant death syndrome in 2007 and was cremated at Emstrey Crematorium.
The day before her funeral, they were told there would be no remains.
He believes the latest changes are a "marked improvement" but that more still needs to be done.
He said: "The biggest thing we would like to happen, in the future, is the appointment of an inspector of crematoria, which is something we have mentioned a number of times."
The latest changes follow on from new regulations that were brought in around cremations in September 2016, when a National Cremation Working Group, made up of representatives from the cremation and funeral industries, voluntary organisations and medical professionals, was established.
Data released under Freedom of Information laws at the time of the initial investigation showed the return of baby ashes was routine in some parts of the country but not in others.
The reasons for the ashes not being returned in this five-year period were not always clear.