Archie Spriggs death trial: Boy's body 'found blue and freezing'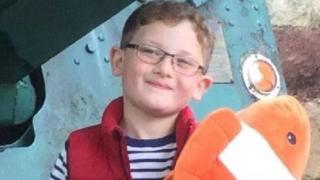 A seven-year-old boy was found "blue, freezing" and dead in his bed after he had been killed, a court heard.
Archie Spriggs's body was found on his bunk by the partner of Lesley Speed, 44, who denies his murder.
A 999 call made by Darren Jones was played to Birmingham Crown Court after he found Archie at Ms Speed's home in Wall-under-Heywood, Shropshire.
Ms Speed was also discovered bleeding heavily with cuts to her neck, arm and wrist, the jury heard.
Mr Jones told an ambulance service call handler he had returned to his home in Rushbury Road on 21 September last year to a "shocking scene", the court heard.
'Hanging from scarf'
"There's blood everywhere. She's cut herself," he said in the call. "Her son, he's dead. He's freezing cold. He's blue.
"I think he's been smothered.
"She found him hanging from his scarf. She dragged him on the bed and smothered him."
"I'm shocked. It was the last thing I was expecting when I came home from work."
In the call to the emergency services, Mr Jones alleged Ms Speed had been "stressing out" over a forthcoming custody hearing with Archie's father, Matthew Spriggs.
A doctor who arrived at the scene by helicopter reported hearing her say that she "did not want to live anymore", the jury heard.
'Episode of depression'
Other medics who attended reported she did not ask about about the condition of Archie, the court was told
One psychiatric report, read out by prosecutor Ms Sally Howes QC, of Ms Speed stated she was suffering from a "severe episode of depression with psychotic symptoms".
Another stated she was only had moderate depression at the time.
Ms Howes told the court molecular analysis of Archie's scarf identified staining that suggested him "being pulled lengthways" and a cushion containing mucus suggesting "it was held over his face to asphyxiate him."
The trial continues.