Shropshire rural maternity units reopen following staff sickness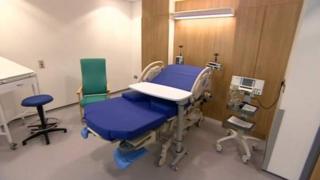 Two rural maternity units in Shropshire have reopened after being closed due to staff sickness.
Ludlow and Oswestry Midwife-Led Units (MLUs) reopened at 08:00 GMT, the hospital trust said.
Services at Oswestry will be suspended overnight on Sunday. The two units reopened on 1 January after being closed for six months.
The hospital trust said it had informed women who had chosen to give birth at the sites.
Sarah Jamieson, head of midwifery at the Shrewsbury and Telford Hospital NHS Trust, said services at Oswestry would be further suspended from 20:00 on Sunday to 08:00 on Monday.
"I would like to apologise for any inconvenience this may cause," she said.
"We are contacting women who have chosen to deliver at Ludlow and Oswestry and who are due to give birth in the near future to inform them and offer an alternative location to give birth if they go into labour while services are suspended."
Shropshire and Telford and Wrekin clinical commissioning groups (CCGs) are considering a shake-up of maternity services that would see the rural MLUs shut for births, with pregnant women only able to deliver at the Royal Shrewsbury and Telford's Princess Royal hospitals, or at home.