Shrewsbury shopping centres bought by council for £51m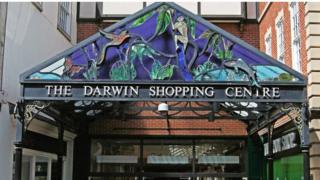 Shrewsbury's three main shopping centres have been bought by Shropshire Council for £51m.
The council agreed to buy the Darwin, Pride Hill and Riverside centres from UK Commercial Property Trust at a meeting in December.
The authority said it hoped the deal would develop the town as a "destination" and provide jobs.
But opposition councillors questioned whether councils should be buying shopping centres.
'Tired and rundown'
Peter Nutting, who leads the Conservative-run council, said the investment was "very exciting".
"It will provide us with the opportunity to shape the redevelopment of a large part of the town centre.
"In particular, the redevelopment of the Riverside Centre is desperately needed as the area is looking tired and rundown.
"The investment in the shopping centres will also enable us to get a better financial return on our money, providing the council with £2.7 million income in next year's budget."
However, Liberal Democrat group leader Roger Evans said he had a number of concerns about the investment.
"If I were in charge of the council, I would not be making this purchase," he said.
"Why did the owners want to sell? I'm not sure about the long-term future of shopping centres.
"The only ones buying them seem to be local authorities."