Coalbrookdale Aga foundry to close by end of November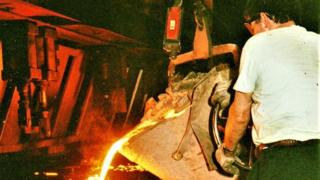 An Aga foundry with over 300 years of history will officially close on November 30, it has been confirmed.
Aga Rayburn will cease operations at its foundry in Coalbrookdale, Telford, by the end of the month.
It brings an end to three centuries of ironwork on the site, which was started by industrialist Abraham Darby I in 1709.
A former worker spoke of his sadness at the closure, saying generations of the same families worked there.
Graham Hickman, 68, of High Street, Ironbridge, worked there for 40 years, from 1965 to 2005.
He began work in the cost office, before becoming cost accountant for the site.
Since it was announced the site would close, he has been running tours of the foundry which he said have been popular with former employees and people with an interest in its history.
"It was a real family atmosphere," he said.
"There were great-great grandfathers working here, and people whose brothers and uncles still worked there.
"Now there are only about 35 people working there, but when I was there it was more like 600.
"There is a real sense of sadness, the community are upset."
It is understood workers will leave the site later this week but the site will close properly at the end of the month.
Coalbrookdale: The cradle of the Industrial Revolution
It was on the site of the foundry that Abraham Darby smelted iron ore using coke instead of charcoal, making it easier to mass-produce cast iron.
In 1779, his grandson Abraham Darby III built the world's first Iron Bridge, and it is believed the beams and ribs of the bridge were cast at the foundry.
In 1802, Cornish engineer Richard Trevithick built the world's first steam railway locomotive at the foundry.
During World War II, the foundry was used by Fisher and Ludlow and made wings for Lancaster bombers.
The Coalbrookdale Company later became part of Allied Ironfounders, formed in 1929 through a merger of foundries.
It became an Aga foundry in 1946.
Laura James, spokeswoman for AGA Rayburn, said: "It has been agreed with staff and unions that the site will close on November 30.
"Some work will continue at the site after that date."
The closure was first announced in May, when the US-owned firm said its base in Coalbrookdale was "no longer economically viable".
Some workers will be transferred to other roles within the group and Aga's factory in Ketley, Telford, will remain open.
Aga Rangemaster was sold to US company Middleby Corporation in 2015 in a deal worth £129 million.
Castings made at the site will now be sourced from elsewhere in the UK and Europe.