Iron Bridge receives German foundation funding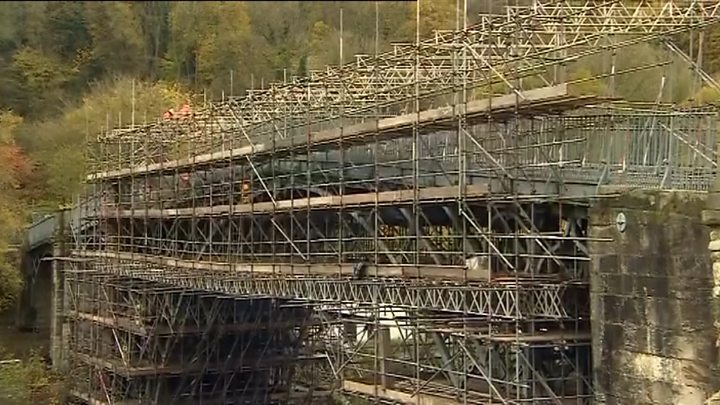 A German foundation has given a project to save Iron Bridge in Shropshire one million euros (£889,680).
English Heritage said the donation meant it had most of the £3.6m needed to carry out "vital repairs" on the 238-year-old structure.
The Hermann Reemtsma Foundation, which mainly promotes cultural and social projects in northern Germany, said this was its first funding in the UK.
The move was "a signal of our strong attachment to Great Britain," it said.
Midlands Live: Doctor charged with sex assaults; Crimestoppers £10k reward for firework fatal arson
The bridge, constructed over the River Severn in 1779, was the world's first single span arch bridge to be made of cast iron.
Jochen Muennich, from the foundation, called Iron Bridge an outstanding example of late 18th Century engineering skills "pioneered in Great Britain and subsequently adopted and developed throughout Europe".
"Not only do we admire the Iron Bridge as an important technical landmark, but we also see it as a potent reminder of our continent´s common cultural roots and values," he said.
"In the current climate it seems more important than ever to raise awareness of the links in our industrial heritage and our broader cultural bonds."
English Heritage has launched its first crowdfunding campaign to help save the bridge it calls "one of the wonders of the modern world".
The charity's head Kate Mavor said: "After two centuries, its cast iron is cracking and if it is to survive, the bridge needs our support."
The organisation spent three years surveying the bridge and concluded it was under threat from ground movement and a 19th Century earthquake which "pushed the sides of the gorge closer together".