Shropshire man mourns executed death row pen pal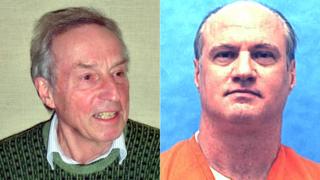 A British man is mourning the execution of his American pen pal, a convicted Florida killer.
Mike Lambrix was executed overnight by lethal injection after spending 33 years on death row.
Lambrix, who was convicted of murdering two people, had been waiting to hear if a last-ditch appeal had succeeded.
Jan Arriens, from Bishop's Castle in Shropshire, who has written to Lambrix since 1991, said: "Everyone was left in a ghastly state of suspense."
Lambrix's execution, by lethal injection, was due to take place at 23:00 BST (18:00 local time) on Thursday.
But Mr Arriens said it had been postponed and taken place after 03:00 BST.
"There were a number of appeals up before the courts so the execution didn't take place as scheduled," said Mr Arriens, who runs a charity called Lifelines which supports prisoners awaiting execution.
He added the amount of time Lambrix had spent on death row was "utterly inhumane".
"I don't think any country in the world in human history has held people as long as this awaiting execution and I think only five or six people have waited as long as Mike."
According to the Jacksonville Daily Record, Lambrix murdered a couple he had invited to his trailer for dinner.
'Grey area'
He was accused of attacking Clarence Moore Jr when they were alone outside the trailer, then calling Aleisha Bryant outside, where she was kicked in the head and strangled.
Mr Arriens said Lambrix claimed he had hit the man in self-defence after finding Ms Bryant strangled.
But the Florida state's version was he killed both victims intentionally.
Mr Arriens said Lambrix's case fell into a "grey area".
"He was very drunk, there were no eyewitnesses and no forensic evidence," he said.
"This is going to leave a huge hole for me.
"Mike was a very good correspondent. It's very strange to think he's no longer there."