Vigil for Shropshire man's death row pen pal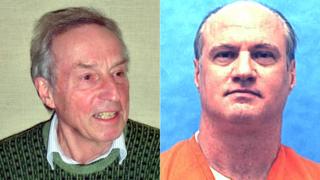 A British pen pal of a convicted Florida killer on death row will be holding a vigil as he waits to hear if a last-ditch appeal has succeeded.
Mike Lambrix is due to be executed tonight by lethal injection after 33 years on death row.
Speaking to US media, Lambrix said recent changes to the law meant his death sentence was unconstitutional.
Jan Arriens, from Bishop's Castle in Shropshire, has been writing to Lambrix since 1991.
Mr Arriens said Lambrix currently has three appeals before the US Supreme Court, including one handwritten by the killer himself, running to 25 pages.
It is possible Lambrix won't find out if one of his appeals has been successful "until he's on the gurney waiting for the lethal injection to be applied," Mr Arriens said.
"We're having a vigil with a small number of people here in Bishop's Castle," he said.
"We'll be sitting here not knowing what's happened unless a stay comes through. If it goes ahead, we won't know until we get a text from a witness."
According to the Jacksonville Daily Record, Lambrix murdered a couple he had invited to his trailer for dinner.
He was accused of attacking Clarence Moore Jr when they were alone outside the trailer, then calling Aleisha Bryant outside, where she was kicked in the head and strangled.
Mr Arriens said Lambrix claims he hit the man in self defence after finding Ms Bryant strangled.
But the Florida state's version was he killed both victims intentionally.
'Deliberate murder'
Under recent changes to the law in Florida, Mr Arriens said Lambrix would not have been sentenced to death because jurors did not vote unanimously for his execution.
Lambrix told US media: "It won't be an execution. It'll be a deliberate act of murder.
"Myself and everybody sentenced to death since 1974 who had anything less than a unanimous jury verdict were illegally and unconstitutionally sentenced to death."
Mr Arriens won't know if his pen pal has died until after Lambrix's scheduled execution at 23:00 BST (18:00 local time).
He added: "He knows the end could well come today."