'Inadequate' Shropshire care home residents 'assaulted'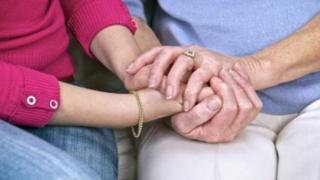 A care home for people with learning disabilities faces losing its licence after being rated "inadequate" by the Care Quality Commission (CQC).
Inspectors in September found people at Darwin Place in Much Wenlock, Shropshire, were often being "assaulted and emotionally abused" by other residents.
It also found evidence of "covert" medicine administration.
Owners Swanton Care said plans to address concerns were in place.
Inspectors visited the care home - which can accommodate up to seven people with learning disabilities or autistic spectrum disorders - unannounced on 4 August and twice again the following week.
'Sitting duck'
Whistle-blowing staff raised concerns about the safety and well-being of residents to the CQC ahead of the inspection.
Inspectors found that residents were not always supported by staff "who had the required knowledge and experience to enable them to lead a happy life".
The report stated people had been involved in incidents "that had or could have affected their health, safety and welfare".
It added: "We found that one person was presenting with severe behaviour patterns which were not managed by the staff team.
"As a result, people were being assaulted and emotionally abused on a regular basis."
One person, described by a member of staff as "a sitting duck", had been assaulted by other residents on seven occasions between 26 July and 4 August.
Covert medicine
There was found to be "oversight" in monitoring medication, with no written handover communication between staff since 14 February.
Inspectors reported "one person was being given their medicines covertly in their food" and there was no best interest decision recorded for this.
A previous inspection in September 2016 had rated the home "good" in all categories.
Darwin Place risks losing its licence if it does not improve within the next six months, but its owners said changes to the management had been made and improvement plans were in place.