Hand dryer in Shrewsbury restaurant led to amputation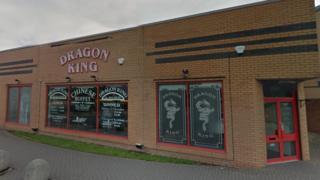 A woman who had to have her finger amputated after using a restaurant hand dryer was hurt because of a missing safety guard, a council said.
The victim, who had learning difficulties, was hurt in May 2016 when her fingers made contact with a rotating fan at Dragon King in Shrewsbury.
So severe were the cuts, she had part of a middle finger surgically removed.
Nocaz Limited, which runs the company, has been fined £12,000.
Equipment not checked
Shropshire Council, who brought the case against the venue operator, said a vulnerable person in her 50s had been exposed to "unnecessary" risk.
The authority said in a statement: "This whole matter could have been avoided had Nocaz Limited checked the equipment properly.
"This was not done and the missing guard was not detected."
Nocaz Limited admitted its part in the woman's ordeal in August.
It was fined at Telford Magistrates Court on September 13.
A council spokesman said: "We take breaches of health and safety requirements very seriously and it can be seen that even a simple breach can result in serious consequences."