Dalian Atkinson toxicology tests delayed, Shrewsbury inquest hears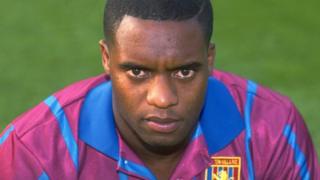 An inquiry into the death of ex-footballer Dalian Atkinson has been delayed due to a "quality failure" at a forensic testing firm, an inquest has heard.
The former Aston Villa star died 90 minutes after being Tasered by police in Telford, Shropshire, in August 2016.
"Potentially compromised" toxicology samples are being re-tested, Shropshire Coroner's Court was told.
A pre-inquest review into Mr Atkinson's death was adjourned until January.
See more stories from Shropshire here
In a statement read to a pre-inquest hearing in Shrewsbury, Independent Police Complaints Commission (IPCC) operations team leader Paul Marriott said toxicology analysis of the samples was allocated to Randox Testing Services.
The statement said: "This analysis was completed, however a quality failure within Randox Testing Services was subsequently identified, which potentially compromised a significant number of cases across the criminal justice system nationally.
"Due to the number of cases impacted by this issue, Avon and Somerset Police were tasked to co-ordinate the re-testing nationally and they categorised the cases in order of priority."
The IPCC said re-testing was expected to be completed next week and a toxicology report would then be sent to the pathologist, who would complete a final post-mortem examination report.
In May the National Police Chiefs' Council said a criminal probe was under way into allegations of "data manipulation" linked to Randox Testing Services.
It said the allegations related to data that supported samples and there was no evidence of manipulation of actual samples.