'Problem' Brookside underpasses to be filled in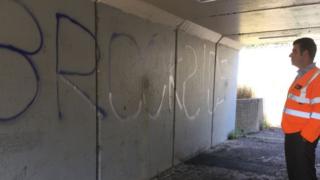 Three "problem" underpasses will be filled in following "safety concerns" and "increasing... anti-social behaviour".
There were more than 100 reported crimes in the underpasses in Brookside, Telford, last year, the council said.
Telford and Wrekin Council said plans to do away with them had been welcomed by residents and police.
Work on the underpasses, along Brookside Avenue, starts on 11 September and will take about 18 weeks.
The 1970s-built underpasses will be filled with foam concrete.
The embankments to either side of the subways will also be filled and top soiled ready for grass seeding to tie in with the surroundings.
New paths linking to existing pedestrian crossings nearby will then be created.
Council cabinet member for communities Arnold England said: "Filling in these underpasses will make a real difference and will help deal with concerns raised about safety and general cleanliness."
About £45m is being invested by the authority over the next three years to make improvements in neighbourhoods across the borough, including improvements to roads, footpaths, street lights and green spaces.