Fears grow for three-legged white fox missing in Telford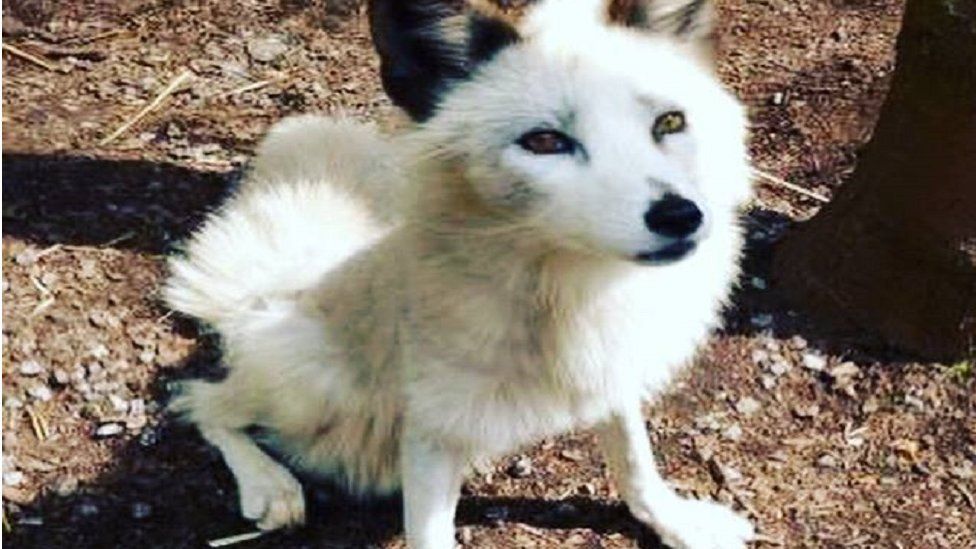 Concerns are growing for a three-legged platinum fox which has escaped from a Shropshire wildlife centre.
Four-year-old Thor escaped from Hoo Farm Animal Kingdom, near Telford, on Saturday.
Farm co-owner Edward Dorrell said he got out after a small branch fell on to his enclosure fence.
"He must have jumped about 8ft on to the branch, which was pretty floppy. So that is still a hell of a jump," he said.
There have been three sightings of Thor, an Arctic-silver fox cross, but staff are still searching for him.
"I am surprised there have not been more sightings of a three-legged fox who must be looking for food," Mr Dorrell said.
Thor has been at the centre since he was 10 weeks old and has been hand-reared.
"We are very worried about him," he said. "Everyone is very fond of him."
Mr Dorrell said Thor was found with a severely injured hind-leg in his enclosure when he was about four months old and it is thought he must have jumped and landed awkwardly.
Vets could not save the leg,
He hoped the fox, described as a "softie' who is used to people but not to traffic, would be scavenging for food in the same way as wild foxes.
Anyone who sees Thor should contact the centre and not try to corner or catch him.
Related Internet Links
The BBC is not responsible for the content of external sites.