Shrewsbury betting shop Coral robbed by man with gun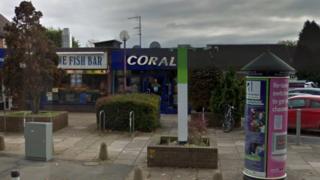 Police are hunting an armed robber who fled with cash after holding up a town betting shop.
The man, who was wearing a balaclava, raided Coral in Mytton Oak Road, Shrewsbury, on Friday night.
He threatened two workers with a suspected hand gun and ordered them to put money in a bag before running away.
No-one was hurt, but staff were left feeling "shaken", West Mercia Police said. The amount of money stolen has not been disclosed.