West Mercia Police chaplain investigated over child sex comments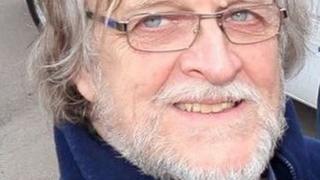 A police chaplain is being investigated after speaking out about child sex exploitation.
Rev Keith Osmund-Smith, who leads a team of street pastors in Telford, told the Daily Mirror he doubted information passed to officers about child sex exploitation was always acted on.
West Mercia Police confirmed an internal investigation was taking place.
Mr Osmund-Smith had taken a sabbatical from his police role, they said.
'No responsibility'
Mr Osmund-Smith, who is also Telford and Wrekin Council chaplain was quoted in the article in August saying lots of reports about child sex exploitation were sent to senior officers.
He told the paper: "Because it was going to so many people, no-one was really taking responsibility for it.
"I was never quite sure the things we were reporting were resulting in any serious action."
It is understood Mr Osmund-Smith is being investigated to see if his police chaplain role is compatible with that of head of the local street pastors and the chaplain at Telford and Wrekin Council.
Last week, Telford Conservative MP Lucy Allan called for an inquiry into why child sex abuse has been going on in Telford for "over 20 years".
West Mercia Police has three pastors, with one of the positions paid.
The role involves offering confidential support to staff.
Mr Osmund-Smith declined to comment.