MP Lucy Allan calls for Telford child sex abuse inquiry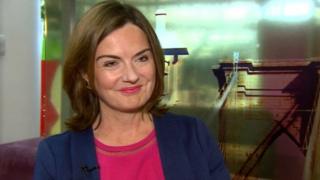 An MP has called for an inquiry into why child sex abuse has been going on in Telford for "over 20 years".
Lucy Allan told a Westminster Hall debate girls were being groomed and traded "like commodities" for sex and many past victims had not had justice.
The MP for the Shropshire town pointed to figures showing Telford and Wrekin had the highest recorded rate of child sex offences in the country.
Operation Chalice saw seven men jailed for sex offences in 2012.
'Shaming videos'
From September 2014 to September 2015, 256 child sex crimes were recorded in Telford and Wrekin - the highest per capita in England and Wales, according to Home Office figures.
And a report on tacking child sexual exploitation (CSE) earlier this year said it was believed there were "far more" victims in the area than those seeking help.
Ms Allan said it was time to "break the silence".
"An independent review will find out why this happened, it will give reassurance to victims that they will be heard and that they will not be ignored," she said.
The MP warned the town had seen a worrying new trend of "shaming videos" in which young girls were filmed and "outed for allegedly promiscuous behaviour".
'Abhorrent crimes'
Home Office staff are due to meet Telford officials about CSE but there are no plans for an inquiry.
Supt Tom Harding said West Mercia Police had made huge strides tackling child sexual abuse and given victims the confidence to report.
"We currently have several ongoing operations aimed at targeting identified individuals and making it harder for people intent on committing these crimes from doing so in Telford," he said.
He added: "We will not rest until these people have been identified and the people responsible for these abhorrent crimes are brought to justice."