Ludlow Hospital maternity services suspended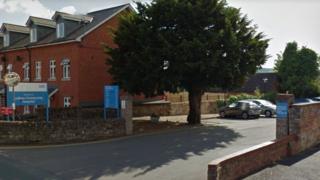 Maternity services have been suspended at a hospital because of concerns about the condition of the building they are housed in.
The trust that runs Ludlow Community Hospital in Shropshire said the decision "had not been taken lightly".
Expectant mothers have been contacted and "alternative arrangements put in place", a statement said.
Bosses are now looking for an alternative location nearby to house antenatal services.
Shrewsbury and Telford Hospital Trust chief executive Simon Wight has apologised for any disruption caused.
"The decision to temporarily suspend services is not one we have taken lightly, but one we felt to be necessary and in the best interest of mums, babies and staff," he said.
He said no decisions about when services would resume would be made until a structural survey had been completed.
The trust said women due to attend the unit in the next few weeks had been given telephone numbers they may need.
It said community midwifery services would be maintained.