Shropshire marches bog preservation project receives £3.75m EU funding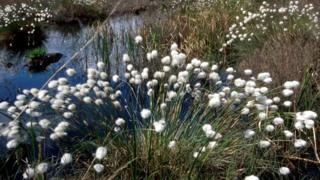 A project to preserve bog land on the border between Shropshire and Wales has received £3.75m in funding from the EU.
The Marches Mosses BogLIFE project is based in Britain's third-largest lowland bog, in an area that covers about 1,000 football pitches.
The funding from the EU's LIFE will go towards a £5m project to restore peat lands, swamps and woodland habitats on the edge of the bog.
It also aims to boost local wildlife, such as curlews and butterflies.
The funding news comes after Shropshire Wildlife Trust announced earlier this year it is raising money to buy a 15-acre site once occupied by a breakers' yard, which it will clean up and restore as a peat bog in the same area.
More on this and other stories from Shropshire
The project, which will be led by Natural England alongside Natural Resources Wales and the Shropshire Wildlife Trust, is set to take place over the next five years.
Joan Daniels, project officer for Marches Mosses BogLIFE, said the funding would put the mosses "on a much better footing to face the future".