Protest over GP surgery plan collapse in Whitchurch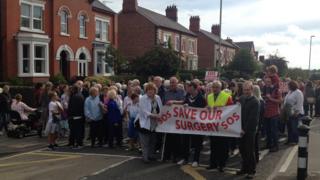 Campaigners angry at the collapse of plans for a new GP surgery in Shropshire have been staging a protest.
Richmond House surgery on Station Road in Whitchurch will close next month due to the lease running out and its doctors retiring or moving on.
But proposals for the 3,800 patients to go to Whitchurch Community Hospital fell through last week.
Ten GP surgeries are being asked to accept patients, Shropshire Clinical Commissioning Group (CCG) said.
But protestors gathered near the surgery on Saturday to stage a march and demonstrate their anger at the situation.
The plans would have seen an empty ward at the hospital used as a GP surgery.
The CCG described the change of plans as "unfortunate" and "disappointing".