Road closed after pasta spillage on A5 in Shropshire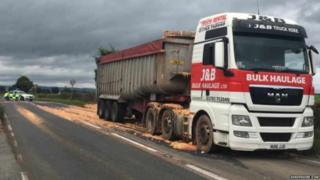 A major road in Shropshire was closed after a lorry shed its load of pre-made spaghetti bolognese.
Twenty tonnes of pasta covered the A5 near Shotatton, forcing police to close the road between the A483 at Oswestry and the A458 at Shrewsbury.
A spokeswoman for West Mercia Police, which attended just after 11:30 BST, said it was not clear how the pasta had ended up on the road.
No-one was arrested and no-one was injured.
A Highways England spokesman said: "We sent people there with high pressure hoses to clean it up but it does seem that it got everywhere.
"All of it has needed sucking up and taking away.
"It's been quite a clean-up job."