Lorry crash house demolished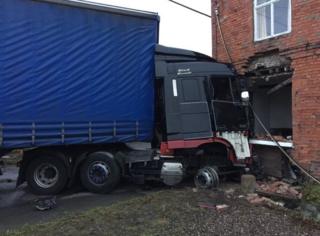 A house hit by a lorry is being demolished due to a "high risk" to the public.
The crash on the A41 at Shakeford, near Hinstock, Shropshire, on 26 July caused severe damage to the building, but the home owners were not there.
Shropshire Council said work to demolish the entire building had now been agreed with insurers.
Materials will be taken from the cellar and more investigations of the cellar walls and highway will take place.
The A41 in the area was scheduled to remain closed until the middle of August and parts of the building would have to be taken down piece by piece, the council has previously said.
It has now said it hoped the new arrangements would bring forward the reopening of the A41.
The decision to remove the whole building had been made because it continued "to pose a serious risk" to the public and contractors, the council said.
The lorry driver was not injured in the crash.