Telford trucker wins appeals against illegal immigrant fine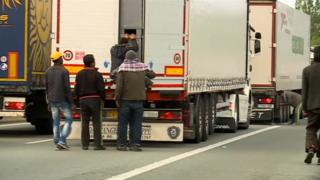 A lorry driver accused of bringing illegal immigrants into the UK in his trailer has had a £10,000 fine overturned by the Home Office.
Jim Rushton, from Telford, was fined when five stowaways were found after he left Calais on 12 January.
He always maintained his lorry went through stringent checks, including a heartbeat monitor which failed to detect anyone on board.
He said it was "a terrible thing" to have the fine hanging over his head.
Drivers who are found with illegal immigrants in their vehicles are issued warnings to say they are liable for a fine if they fail to provide evidence they did not conduct the right checks.
More on this and other stories from Shropshire
"I haven't got £10,000 just to give out willy-nilly," he said.
"I know I was innocent - I did everything I could physically do to check my vehicle was migrant-free."
Surprise discovery
Vehicles crossing the English Channel are scanned using heartbeat monitors to check for passengers or stowaways, as well as searched by sniffer dogs.
Drivers also have to complete paperwork for their journeys.
Mr Rushton - whose firm makes about 25 journeys across the Channel each week - said he had just been through the heartbeat monitoring machine when the migrants were found by sniffer dogs.
He said he was "gobsmacked" when the migrants were discovered on his vehicle as he rolled back the sheet of his trailer for the border official.
"As far as I knew I was clear, there was nobody on there," he said.
"Of course, when I rolled the sheet back there they were... five of them.
"I was gutted, because as far as I was concerned I'd done everything possible to make sure there were no migrants on the back of my trailer.
"I'd made all the checks, like we're instructed to do by our firm... I'd filled all [the forms] in, and I'd been through the heartbeat monitor and that never picked them up. So as far as I was concerned I had none on the back of of my trailer."
Mr Rushton said the fight against the fine had "knocked me about", and thanked Telford MP Lucy Allan "from the bottom of my heart" after she backed his case.
Ms Allan said she was "delighted" to see the appeal succeed.
"An experienced lorry driver of over 40 years, Jim took all reasonable steps to ensure that nobody had hidden themselves on his lorry," she said.
Lorry driver fines
£2,000
Maximum fine a driver faces for each unauthorised person found in their vehicle
3,319 Fines served in 2014-15, up from 998 in 2012-13

7% Of all drivers fined in 2013-14 were British

1 in 3 Lorries entering the UK are believed to have lower than "basic standards of security"
BBC