Campaigners oppose Shrewsbury swimming pool move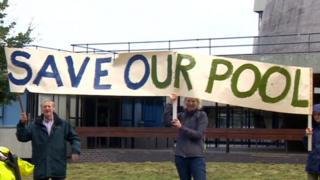 Campaigners have been demonstrating outside Shropshire Council's offices as councillors backed a report calling for a new swimming pool in Shrewsbury.
The authority voted in favour of building a new pool at Shrewsbury Sports Village in Sundorne.
It has also deferred a decision on the future of the Quarry, a pool in the town centre, for 12 months.
Users of the Quarry, which is used to train scuba divers and canoeists, have a year to find a way to keep it open.
More on this and other stories from Shropshire
Stephen Gillian, a member of the Quarry Swimming and Fitness Forum, said the current site was "no longer fit for purpose" and would need "major work" to keep it viable.
However, he says any new pool should stay in the town centre, claiming the numbers using a pool at Sundorne would drop by 35% "at a conservative estimate" and cancel out any savings from cheaper subsidies.
"Whilst we want [the council] to save money, we want them to use our money well."
Richard Green, from Shrewsbury Canoe Club, said the new facilities at Sundorne would be "totally inadequate" for the groups using the Quarry.
"[The Quarry] is a central facility for this town, and it's right in the middle of the town," he said.
"When you attract people to a facility like this it also adds footfall into the town. It's a major part, and once it's gone - it's gone."
Prior to the meeting, Stuart West, cabinet member for culture and leisure, said the council had responded to public pressure and given Quarry users time to find alternative ways to keep it open.
On the Sundorne proposals, he said: "The Sports Village has emerged as the location that best meets Shropshire Council's objectives for future swimming provision in Shrewsbury - including the key factor of affordability," he said.