Stroke rehabilitation services switch from Shrewsbury to Telford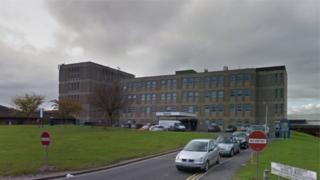 Stroke patients in Shropshire will no longer be able to get specialist treatment at Royal Shrewsbury Hospital.
Emergency treatment moved to Telford in 2013 but some patients were still attending the Shrewsbury site for rehabilitation.
But the trust said it had not been able to replace one of its specialists and is now transferring its three remaining physicians to Telford.
A handful of patients will be affected by the temporary move, it added.
But one woman who was part of the Umbrella Appeal - a campaign group that fundraised to get new equipment for the unit in 2002 - said she was heartbroken by what had happened.
More updates on this and other stories in Shropshire
The campaigner, who did not want to be named, said: "I think the NHS had made the biggest cock-up that it could possibly make... everybody is heartbroken."
The rehabilitation unit at Shrewsbury, which cares for a range of patients, is not closing, Hazel Davies, from the Shrewsbury and Telford Hospital NHS Trust (SaTH), said.
Patients who can be cared for by a GP will still be able to have treatment there.
"Unfortunately one of our four acute stroke physicians is leaving the trust this month and despite all efforts, due to a national shortage, we have not been able to recruit to replace him," she said.
"In order to maintain specialised stroke services in the county.... we are now looking at the options available, which include temporarily basing the three remaining acute stroke physicians at PRH [Princess Royal Hospital] in Telford.
"This will only affect three or four patients a week who will now receive their care and rehabilitation on one site at PRH."