Shrewsbury Museum's appeal over mystery seaside photos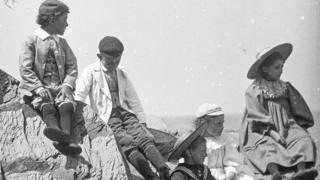 A museum is trying to identify the people and places featured in a series of Edwardian seaside photographs.
Shrewsbury Museum said unlike many portrait photographs of the period, the photos are informal, showing a more relaxed side of Edwardian life.
The images show children playing in the sea and adults relaxing.
They will go on show with other items exploring the relationship the British have with the seaside. Anyone with information should contact the museum.
More updates on this story and others in Shropshire
Some photos have been identified at various locations including Scarborough, Borth, Rhyl, Lowestoft but many are from unidentified destinations.
Stuart West, Shropshire Council cabinet member for culture and leisure, said: "These pictures were the holiday snaps of the time and they give us a rare glimpse into the lives of holiday-makers some 100 years ago.
"We would love to know more about the people and places that feature in these photographs - and we're asking people for their help."
Other items that will form part of the exhibition later this month include a replica bathing machine built at Acton Scott Historic Working Farm, a selection of railway posters evoking the time when trains left Shrewsbury heading for the Welsh coast and a display of period bathing costumes, the museum said.