MP angers junior doctors in 'opportunities' row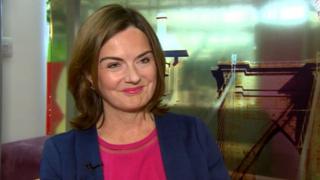 An MP has angered junior doctors who said she is suggesting residents in her constituency are not intelligent enough to work in the profession.
Telford's Lucy Allan said it was "wrong to suggest we are a constituency that is a liberal elite of highly-educated people - we're absolutely not."
She said her constituents "do not have the opportunities that doctors have".
It comes as the British Medical Association resumes talks with ministers over junior doctor contracts.
Ms Allan spoke out as she defended Facebook comments where she described junior doctors as "privileged" and "holding the NHS to ransom".
Speaking to the BBC, she said she made the comments on behalf of constituents, who did "not understand" the strike.
But members of Facebook group Junior Doctors of Telford say she has let the town down.
'De-motivating the young'
Ami Jones grew up in Telford and is now a consultant in Abergavenny.
She said: "She described people from Telford as under privileged and uneducated. As someone who was raised and educated there I was personally quite angry.
"I went to one of the poorest schools in Telford, but people generally did ok and quite a few of us went on to medical school.
"She is de-motivating the young people of Telford. She should be telling them they can set their mind to anything, and not that it's about where they live and what their postcode is."
In her post, Ms Allan suggested Telford may have "only one" junior doctor, although she has been contacted by at least four who want to meet her.
Members of the Facebook group have arranged to meet Ms Allan on June 10.