MP Lucy Allan says 'trainee doctors holding NHS ransom'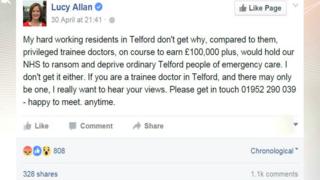 Doctors have criticised their MP after she called trainee doctors "privileged" and accused them of "holding the NHS to ransom".
More than 1,500 people have supported a group wanting to meet Lucy Allan MP, who claimed her Facebook post represented her Telford constituents.
She offered to speak to "anyone, anytime" but local doctors say they have had "no luck".
It comes amid national strikes by junior doctors over pay and conditions.
'Only one'
On Saturday, Ms Allan wrote on Facebook: "My hard working residents in Telford don't get why... privileged trainee doctors, on course to earn £100,000 plus, would hold our NHS to ransom..."
She went on to ask trainee doctors in the town to get in touch, saying "there may only be one".
Within hours, a Facebook page called "Junior Doctors of Telford" was set up. It has been supported by over 1,500 people.
Jess Harvey, a junior doctor from Telford, said: "We're not a group of over-privileged people. We come from all backgrounds now. That's a fairly old-fashioned view to hold."
She said that doctors in the area "have had no luck getting in touch with" Ms Allan.
Dr Harvey said she believed the MP was confusing junior doctors with trainees.
"Medical students definitely aren't being paid. In fact they pay in tuition fees to learn to be a doctor."
Ms Allan released a statement saying: "We do not have many trainee doctors in Telford. I have only had one trainee doctor... write to me on this issue.
"I think it is right as Telford's MP to speak out about what concerns Telford residents. That is my job."