Shrewsbury Big Busk festival: Boys complete record attempt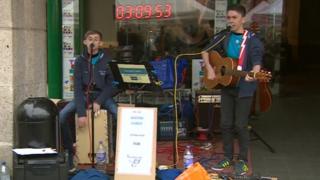 Two young musicians have completed a 25-hour charity busk in Shropshire.
Tom Barras and Louis Briggs began playing guitar in Shrewsbury 09:00 BST on Friday and strummed their final notes at about 10:00 on Saturday.
The friends set themselves the challenge as part of a two-day busking festival held in memory of a local musician who was murdered in 2012.
Because the pair are both under 16, they said they cannot be considered for a world record, despite beating it.
"The Guinness Book of World Records said we're too young, we have to be over 16 to apply... but we have beaten the record - unofficially.... by about 30 minutes."
They said they knew it was a big challenge to take on and were close to giving up overnight but kept going.
"We're very, very, very, very, very, very, very tired," they said.
"But it's important as we're raising money for an amazing charity which support the homeless and the vulnerable," Louis added.
Guy Bebbington, known as Ben, died from head injuries in September 2012.
Two men were later jailed for life for his murder on a canal towpath in the town.
Mr Bebbington was described as a "talented musician" and was often seen busking in Shrewsbury.