Telford woman admits kidnapping nine-week-old baby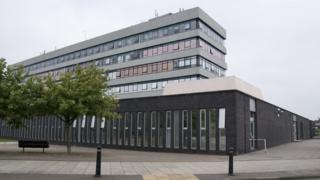 A woman has admitted kidnapping a nine-week-old baby boy in Telford.
Kelly Mahon, of John Broad Avenue, Arleston, was arrested after the infant was reported missing from his home on 24 February. He was found safe and well the same day.
Mahon, 41, admitted one charge of kidnap at Shrewsbury Crown Court and was remanded in custody.
Judge Robin Onions told the defendant she was likely to receive a custodial sentence "of some length".
During a hearing at Telford Magistrates' Court last month the prosecutor told the court the kidnap had been "pre-planned".
Kelly Crowe told magistrates on 26 February: "When officers go around there (to Mahon's home) a number of baby items were present; cots, clothes, baby clothes, both female and male and also a to-do list.
"She made reference to sterilisers, nappies, and milk for babies."
The case has been adjourned until 12 May.