Shrewsbury's 'Traitor's Gate' is restored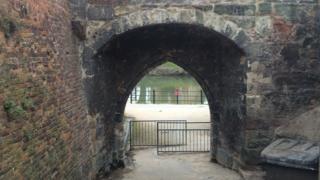 A 13th Century heritage site which was considered "at risk" for almost 18 years has been restored.
Traitor's Gate in Shrewsbury was slowly deteriorating and concealed by ivy, which has now been removed.
Stone and brick work have been repaired at a cost of £6,000, but the town walls circuit is still at risk, English Heritage said.
Also known as St Mary's Water Gate, it was built to allow access into the town from the River Severn.
More on this and other Shropshire stories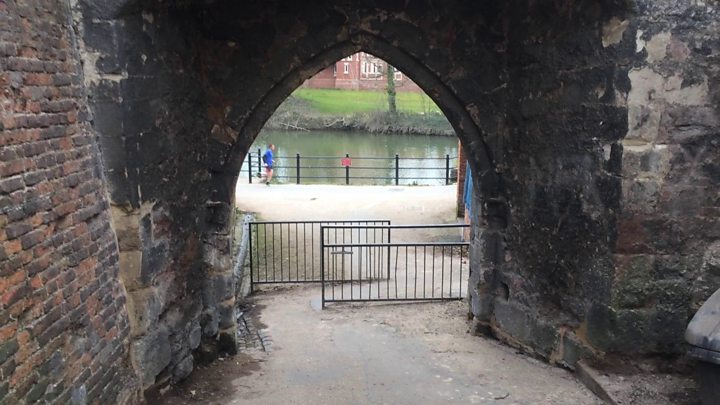 The gate got its name from an English Civil War legend, in which a traitor opened it to allow a force of Parliamentarian troops to enter the town and take control.
Mystery find
During the restoration, large pieces of sandstone masonry which had been deliberately placed on top of the walls were found.
The county council believes these could date back to the 17th or 18th Century and may have been sourced from a large mansion known as The Stone House, which stood at the site of Watergate Mansion.
How or why the sandstone was placed on Traitor's Gate remains a mystery.
Imogen Sambrook from Historic England said: "The town walls circuit is still at risk and continues to be a target for Historic England.
"We are...working together with the council to engage owners of different stretches of the wall...to remove threats and get the town walls off the Heritage at Risk Register, which will be a great achievement after being at risk for nearly 18 years."