West Mercia chief constable David Shaw to retire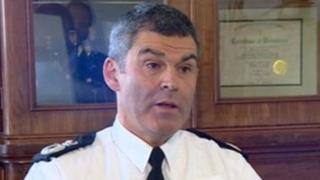 The chief constable of West Mercia Police has announced his retirement after five years in charge.
David Shaw transferred from West Midlands Police in 2008 to take on the role of deputy chief constable, then stepped up to chief constable in 2011.
He said his eight years policing Shropshire, Herefordshire and Worcestershire have been among the toughest but happiest of his career.
During his tenure, police and crime commissioners (PCC) were introduced.
Bill Longmore, PCC for West Mercia, said: "He has shown exceptional leadership, during what has been a very difficult period for police forces everywhere.
"He has handled everything that has come his way, and always maintained his focus on the things that matter most."
Mr Shaw's replacement will be chosen by whoever replaces Bill Longmore as the next PCC after he retires in May.